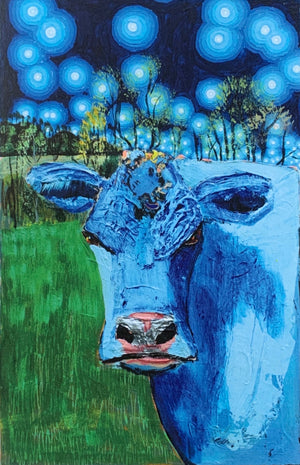 John Borden Evans - Open Studio
JOHN BORDEN EVANS

Open Studio

Saturday November 18th, 1-5 PM
Saturday November 25th, 1-5 PM

Other times by appointment at
bethneville@gmail.com

2771 Old Lynchburg Rd.
North Garden, VA 22959

For information email bethneville@gmail.com
or text to (646) 784-7924
Studio at Night with Two Owls in the Paw Paw Tree, 2023 15" by 20", acrylic on 100% rag paper"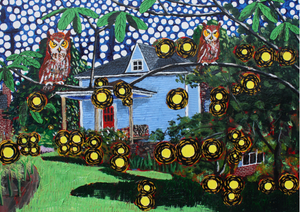 Introduction
John Borden Evans is a Charlottesville, Virginia-based painter. Working close to his home and heart, John produces lush acrylic-on-canvas paintings of the peaceful pastoral scenes. Inspired by the process of painting itself, and by the play of light, shadow, and the seasons on the natural landscape, he alternates between building up and scraping down layers of pigment, creating richly textured surfaces that capture the physicality of his subject matter, and his memories. His subjects range from free-roaming farm animals like cows and chickens to sweeping skies over rolling hills to closely observed trees and manmade features dotting grassy expanses.
John Borden Evans in the Press
---
His gentle landscapes depict fields, sheltering forests and neighbors who are mostly cows, fireflies and the occasional dog. But Evans didn't flee recently to this bucolic site near Charlottesville; he...
Map of John's World
Over the years, John's paintings have become more and more about place. That place is his immediate environment, the cattle fields, the trees, the fences and the skies.
See John's Work